How to Access Linksys Smart WiFi Tools?
Linksys smart WiFi routers satisfy their users with top-notch performance. People prefer investing in these smart routers not just because of their performance but also due to the eye-catching features, Linksys smart WiFi tools. The smart WiFi tools help you have complete access to your home network from anywhere. No matter where you are, at home or anywhere else, you can manage your router, turn on or off the internet connectivity, check your kids' online activities, and do much more.
This guide will help you get a good insight into the features of Linksys smart WiFi tools. Simply walk through the guide and learn how to get benefitted from the smart tools.
What are the Linksys Smart WiFi Tools?
The features that you get on the Linksys smart WiFi tools are:
Network Map
Device List
Guest Access
Media Prioritization
Speed Test
Connectivity
Troubleshooting
Parental Controls
Security
USB/External Storage
Wireless
OpenVPN Server
Using these tools, you can easily manage your Linksys smart WiFi router. Once you are logged in the admin dashboard will be visible to you. On the dashboard, you will find all these tools.
Steps to Access Linksys Smart WiFi Tools
To reach the smart tools you need to access Linksys Smart WiFi which can be easily done in two ways:
Remote Access
Local Access
Linksys Smart WiFi Tools Remote Access
You can access Linksys smart WiFi from anywhere using the Linksys cloud account. Your Linksys router, however, must be associated with the cloud account. You can log in using a web browser or even on the app. To avoid any issues while logging in it is recommended to update the firmware of your Linksys smart router. You can manually update your router by accessing the Linksys router login page.
Here are the steps that you can use to log in using a web browser:
Web Browser Access
Ensure that you have a stable internet connection.
Power up your computer or laptop.
Connect it to WiFi.
Fire up an internet browser.
In the URL bar type linksyssmartwifi.com and press the Enter key.
On the login window that pops up, type the email address and password and click Sign in.
Ensure using the Linksys cloud account email address and password.
You are accessing Linksys smart WiFi now. You can now manage your network using Linksys smart WiFi tools available on the dashboard.
Linksys App Access
Use the instructions provided below to log in using the mobile app:
Download the Linksys App from Play Store or App Store.
Launch the app when it is installed.
You will be asked to log in using the Linksys cloud account login details.
Do the same and you are accessing the Linksys smart WiFi.
Linksys Smart WiFi Tools Local Access
Ensure that your Linksys router is powered up and is connected to the modem securely.
Turn on the computer now.
Turn on its WiFi and connect it to the router's WiFi.
Launch an internet browser.
Type myrouter.local or the default IP address 192.168.1.1 in the address field.
Hit Enter.
On the login window that appears, key in the router password.
NOTE: The default admin password for your Linksys router is admin.
Click Sign In.
There you go! You are now logged in to your router. You can see a dashboard displaying Linksys Smart WiFi Tools and Router Settings. Go ahead and make changes to its settings the way you require.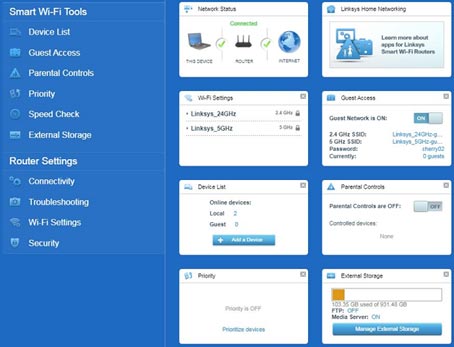 The Final Note
Now you know how to access the Linksys Smart WiFi tools by logging in to your Linksys router. You can now log in at any time whenever you need. Consider bookmarking this page to refer to the information in case you need any time in the future.